About the Centre for Oral and Maxillofacial Surgery
After the foundation of a dental institute at the end of the 19th century by Dr. Boennecken, it became a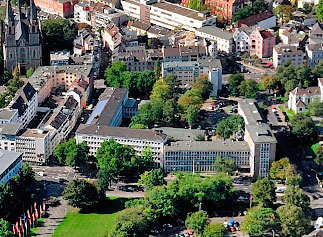 university dental institute in the 1920s due to the initiative of Prof. Dr. Kantorowicz. In 1944, the clinic, which was located at Am Hof, was destroyed by a bombing raid. After operating a provisional building in Nussallee, a new building was planned at the end of the 1950s under the leadership of Prof. Dr. Korkhaus and inaugurated in 1960 in Welschnonnenstrasse as the Centre for Dental, Oral and Maxillofacial Medicine. After the establishment of the first chairs for dental preservation and periodontology (Prof. Dr. Sauerwein), orthodontics (Prof. Dr. Dr. Schmuth) and oral and maxillofacial surgery (Prof. Dr. Dr. Krüger) in 1967, the chairs for dental prosthodontics and dental surgery were filled by Prof. Dr. Hupfauf and Prof. Dr. Dr. Lehnert in 1972 and 1974 respectively. Since then, in addition to academic teaching for students, a comprehensive range of dental therapies has been offered to the population of the entire region. In science, nationally and internationally recognised research foci have been established.
The dental clinic underwent a significant further development through a comprehensive renovation during the years 1988-2001. Attractive treatment areas were created according to the latest guidelines of ergonomics and hygiene, modern scientific laboratories and future-oriented classrooms, which also meet all the requirements of computer-assisted work. Today, the Centre for Dental, Oral and Maxillofacial Medicine represents all dental disciplines in research, teaching and patient care with the independent departments of the Clinic and Polyclinic for Oral, Maxillofacial and Plastic Facial Surgery, Director: Prof. Dr. F.- J. Kramer, Polyclinic for Periodontology, Dental Conservation and Preventive Dentistry, Director: Prof. Dr. Dr. S. Jepsen, Polyclinic for Orthodontics, Director: Prof. Dr. A. Jäger and Polyclinic for Dental Prosthetics, Propaedeutics and Materials Science, Director: Prof. Dr. H. Stark.
All oral and maxillofacial diseases are treated at the Centre for Dental, Oral and Maxillofacial Medicine. The spectrum ranges from preventive measures to preserve dental and oral health to inpatient tumour treatment. In the sense of a comprehensive range of therapies, the Centre for Oral and Maxillofacial Medicine is integrated into the University Hospital Bonn in order to be able to use the resources and possibilities of all medical disciplines. Dental students are introduced to patient care in all disciplines at an early stage as part of their training. The conception of the clinic makes it possible to take into account the needs of the patients and to offer modern care and therapy concepts despite the size of the centre. The catchment area of the centre extends far beyond Bonn and the Rhein-Sieg district.