Institute for Patient Safety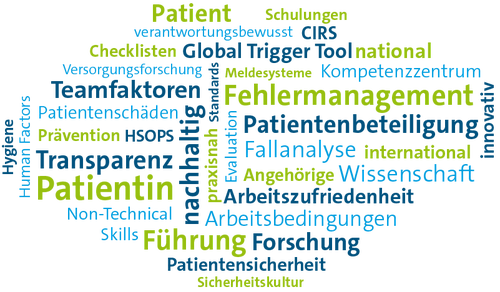 The Institute for Patient Safety (IfPS) is the first in Germany explicitly dedicated to research and teaching of patient safety. The institute began its activities on January 1, 2009, and was supported until 2017 by an endowed professorship from the German Coalition for Patient Safety (Aktionsbündnis Patientensicherheit e.V., APS).
The interdisciplinary team consists of psychologists, physicians, nurses and health researchers.
Current at the Institute for Patient Safety
Secretariat
Availability
Mo, We, Fr: 13:00-15:30
Tu, Th: 8:00-11:30
Latest publications
---
Heier, L.; Riouchi, D.; Hammerschmidt, J.; Gambashidze, N.; Kocks, A.; Ernstmann, N. (2021). Safety Performance in Acute Medical Care: A Qualitative, Explorative Study on the Perspectives of Healthcare Professionals. Healthcare 2021, 9, 1543. https://doi.org/10.3390/healthcare9111543
Koch, A., Kullmann, A., Stefan, P., Weinmann, T., Baumbach, S.F., Lazarovici, M., Weigl, M. (2021). Intraoperative dynamics of workflow disruptions and surgeons' technical performance failures: insights from a simulated operating room. Surg Endosc (2021). https://doi.org/10.1007/s00464-021-08797-0
Heier, L., Gambashidze, N., Hammerschmidt, J., Riouchi, D., Geiser, F., & Ernstmann, N. (2021). Development and testing of the situational judgement test to measure safety performance of healthcare professionals: An explorative cross-sectional study. Nursing Open, 00, 1–8. https://doi.org/10.1002/nop2.1119
Catchpole, K., Lusk, C., Weigl, M., Anger, J., & Cohen, T. (2021). Addressing misconceptions of flow disruption studies in "Is non-stop always better? Examining assumptions behind the concept of flow disruptions in studies of robot-assisted surgery". Journal of Robotic Surgery, 1-2. https://doi.org/10.1007/s11701-021-01318-0
Kaltenegger, H.C., Becker, L., Rohleder, N., Nowak, D., Weigl, M. (2021): Associations of working conditions and chronic low-grade inflammation among employees: a systematic review and meta-analysis. In: scandinavian Journal of Work, Environment & Health, doi:10.5271/sjweh.3982
Weigl, M., Schreyer, J. (2021): Die parallele Pandemie?. Internist 62, 928–936. https://doi.org/10.1007/s00108-021-01120-y
Heier, L.; Gambashidze, N.; Hammerschmidt, J.; Riouchi, D.; Weigl, M.; Neal, A.; Icks, A.; Brossart, P.; Geiser, F.; Ernstmann, N. (2021): Safety Performance of Healthcare Professionals: Validation and Use of the Adapted Workplace Health and Safety Instrument. Int. J. Environ. Res. Public Health 2021, 18, 7816. https://doi.org/10.3390/ijerph18157816
Dohmen, M., Petermann-Meyer, A., Blei, D., Bremen, R., Brock-Midding, E., Brüne, M., Geiser, F., Haastert, B., Halbach, S.M., Heuser, C., Holsteg, S., Heier, L., Icks, A., Karger, A., Montalbo, J., Nakata, H., Panse, J., Rottmann, T., Sättler, K., Viehmann, A., Vomhof, M., Ernstmann, N., Brümmendorf, T. H. (2021): Comprehensive support for families with parental cancer - Familiy-SCOUT: study protocol for the evaluation of a complex intervention. DOI: https://doi.org/10.21203/rs.3.rs-401056/v1 Preprint.
Schreyer, J., Koch, A., Herlemann, A., Becker, A., Schlenker B., Catchpole,K., Weigl, M. (2021): RAS-NOTECHS: validity and reliability of a tool for measuring non-technical skills in robotic-assisted surgery settings. Surg Endosc (2021). https://doi.org/10.1007/s00464-021-08474-2
Passauer-Baierl, S., Stumpf, U., Weigl, M. (2021): Teamarbeit und Stress bei Routineeingriffen: eine Beobachtungsstudie multiprofessioneller OP-Teams. In: Der Unfallchirurg, S. 1-8.
https://doi.org/10.1008/s00113-021-00977-w
Augenstein, T., Schneider, A., Wehler, M., Weigl, M. (2021): Multitasking behaviors and provider outcomes in emergency department physicians: two consecutive, observational and multi-score studies. In: Scandinavian Journal of Trauma, Resuscitation and Emergency Medicine 29, 14 (2021).
https://doi.org/10.1186/s13049-020-00824-8
Weigl, M., Kaltenegger, H., Nowak, D. (2021). Die elektronische Patientenakte – Technostress im Krankenhaus? 15.01.2021. Online verfügbar unter:
https://scilogs.spektrum.de/gesund-digital-leben/die-elektronische-patientenakte-technostress-im-krankenhaus/