Surges Workgroup - Clinical Epilepsy Research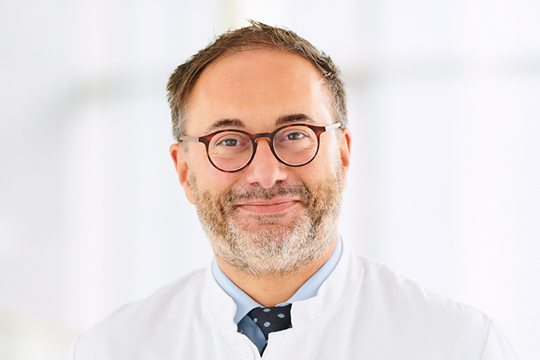 Head of Workgroup
Secretary
Rosemarie Luster

Tel.: +49 228 287-19388
Fax: +49 228 287-14328
---
Our scientific group studies the interactions between the autonomic nervous system, the heart and the brain, as well as the mobile health technologies available for seizure disorders, the epilepsy surgery treatment of focal epilepsies, and the causes and therapies for rare types of epilepsy. We evaluate information collected in everyday clinical practice (retrospective), as well as data measured by means of special devices or protocols (prospective).
Autonomic nervous system and interactions between the heart and the brain
Epileptic seizures almost regularly affect central autonomic nervous system activity, so that changes in respiration, cardiac activity, and cardiac excitability are frequently observed. We are investigating how such changes could cause syncope or increase the risk of premature mortality from SUDEP (sudden unexpected death in epilepsy) or sudden cardiac death.
Mobile health technologies
The counting of epileptic seizures by either patients or family members is often be a flawed process and tonic-clonic seizures which are not observed can be dangerous. Therefore, we are in the process of developing and investigating mobile health technologies (e.g. Smartwatches and fitness trackers) that can ensure better seizure counting and notify helpers via communication technologies.
Epilepsy surgical treatment of focal epilepsies and clinical neurophysiology (co-headed by Dr V. Gnatkovsky and Dr A. Rácz)
Depending on the constellation, focal epilepsies can be cured with neurosurgical interventions. However, some patients who have undergone surgery might have seizures that reappear after a few years. Using comprehensive clinical investigations and new computer-based methods, we are investigating the causes and predictors that lead to a good epilepsy surgery outcome.
Causes and therapies for rare epilepsies (co-headed by Dr. T. Baumgartner)
Epilepsies can be caused by genetic changes or autoimmune processes. A large proportion of these epilepsies are difficult-to-treat and, in addition taking antiepileptic drugs for seizure control, patients also require supplementary forms of therapy such as immunosuppression or the additional administration of vitamins. We are investigating the genetic causes and therapy responses in genetic progressive myoclonus epilepsies, autoimmune-mediated epilepsies ("limbic encephalitis"), and other rare forms of epilepsy.
Staff:
Dr. rer. nat. Jan Baumann
Dr. med. Tobias Baumgartner
Dr. Vadym Gnatkovsky
Dip.-Biol. Birgitta Esser
Arthur Jordan
Dr. med. Karmele Olaciregui
Dr. med. Jan Pukropski
Dr. med. Dr. rer. nat. Attila Rácz
Current publications (selected):
Jiruska P, Freestone D, Gnatkovsky V, Wang Y (2023) An update on the seizures beget seizures theory. Epilepsia. doi:10.1111/epi.17721.
Houta S, Bader A, Effert J-S, Esser B, Henze J, Spaic A, Zocher F, Lauerer M, Surges R (2023) Digital health applications in the self‐management of epilepsy – a survey on patients' perspective. Epilepsia Open epi4.12788. doi:10.1002/epi4.12788.
Cucchi D, Baumgartner T, Walter SG, Menon A, Ossendorff R, Surges R, Burger C, Wirtz DC, Friedrich MJ (2022) Epidemiology and specific features of shoulder injuries in patients affected by epileptic seizures. Arch Orthop Trauma Surg. doi:10.1007/s00402-022-04420-6.
Baumgartner T, Pitsch J, Olaciregui-Dague K, Hoppe C, Racz A, Rüber T, Becker A, Wrede R von, Surges R (2022) Seizure underreporting in LGI1 and CASPR2 antibody encephalitis. Epilepsia. doi:10.1111/epi.17338.
Olaciregui Dague KR, Weinhold L, Hoppe C, Schmid M, Surges R (2022) Anti-seizure efficacy and retention rate of carbamazepine is highly variable in randomized controlled trials: a meta-analysis. Epilepsia Open. doi:10.1002/epi4.12644.
Surges R (2021) Wearables bei Epilepsien. Klin Neurophysiol 52:29–38.
Kämpfer C, Racz A, Quesada CM, Elger CE, Surges R. Predictive value of electrically induced seizures for postsurgical seizure outcome. Clin Neurophysiol 2020;131(9):2289-2297
Gnatkovsky V, Pelliccia V, de Curtis M, Tassi L. Two main focal seizure patterns revealed by intracerebral electroencephalographic biomarker analysis. Epilepsia 2019;60(1):96-106
PubMed-listet publications of the Surges lab: here
Grants:
BMBF (EpiTect, until 2019)
BMG (MOND, since 2020)
Boll Stiftung, Kerpen (until 2019)
Verein zur Förderung der Epilepsieforschung e.V.
Collaborative Research Consortia/ Scientific Co-operations:
Stichting Epilepsie Instellingen Nederland (SEIN), Heemstede, Niederlande
Department of Clinical Neurosciences, Centre Hospitalier Universitaire Vaudois (CHUV), Lausanne, Schweiz
MOND Consortium (here)