Degenerative retinal diseases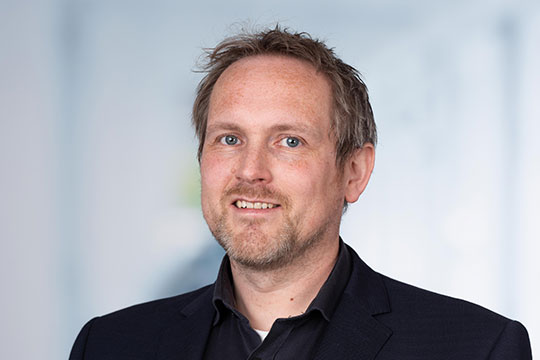 Prof. Dr. Volker Busskamp
In order to understand how parts of the human brain, especially the retina, function in health and disease, we perform an interdisciplinary and integrative approach combining stem cell research, systems biology, bioengineering, biomedicine with visual neuroscience. Our ultimate goal is to develop innovative therapies to protect, preserve and restore visual functions.
Education
2007 – 2010: PhD in Neuroscience, Friedrich Miescher Institute and University of Basel, Switzerland (Botond Roska)
2006 - 2007: Post graduate diploma in Biology (DEA), University of Geneva, Switzerland
2001 – 2006: Diploma in Biotechnology, Technical University of Braunschweig, Germany
Positions held
Since 2019: Professor for degenerative retinal diseases, Department of Ophthalmology, University of Bonn, Germany
Since 2014: Research Group Leader and Freigeist Fellow at the Center for Regenerative Therapies Dresden (CRTD), Germany
2011 – 2014: Postdoctoral fellow, Harvard Medical School, Boston, USA (George M. Church)
2010 – 2011: Postdoctoral fellow, Friedrich Miescher Institute, Basel, Switzerland (Botond Roska)
Training
2014/2015: by the Volkswagen Foundation and Zentrum für Wissenschaftsmanagement e.V.
Dr. Kirsten Harmening (Lab Manager)
Dr. Sarah Kunze (Lab Coordinator)
Dr. Rouhollah Habibey (Postdoc)
Dr. Robert Prior (Postdoc)
Julia Pawlick (PhD student)
Kritika Sharma (PhD student)
Johannes Striebel (PhD student)
Elizaveta Podoliak (PhD student)
Mareike Eis (Master student, WHF)
Sijia Yan (Medical student)
Karla Vollmerig (SHK)
Richa Joshi (SHK)
Gabriel E, Albanna W, Pasquini G, Ramani A, Josipovic N, Mariappan A, Schinzel F, Karch CM, Bao G, Gottardo M, Suren AA, Hescheler J, Nagel-Wolfrum K, Persico V, Rizzoli SO, Altmüller J, Riparbelli MG, Callaini G, Goureau O, Papantonis A, Busskamp V, Schneider T, Gopalakrishnan J. Human brain organoids assemble functionally integrated bilateral optic vesicles. Cell Stem Cell. 2021 Aug 12:S1934-5909(21)00295-2. doi: 10.1016/j.stem.2021.07.010. Epub ahead of print. PMID: 34407456.
Kutsche L, Gysi DM, Fallmann J, Lenk K, Petri R, Swiersy A, Klapper SD, Pircs K, Khattak S, Stadler PF, Jakobsson J, Nowick K, Busskamp V. "Combined Experimental and System-Level Analyses Reveal the Complex Regulatory Network of miR-124 during Human Neurogenesis", Cell Systems 2018 Oct 3.
Busskamp V, Lewis NE, Guye P, Ng AHM, Shipman SL, Byrne SE, Murn J, Sanjana NE, Li S, Li Y, Stadler M, Weiss R, Church GM. "Rapid neurogenesis through transcriptional activation in human stem cells", Molecular Systems Biology 2014 Nov 17.
Busskamp V, Krol J, Nelidova D, Daum J, Szikra T, Tsuda B, Jüttner J, Farrow K, Gross Scherf B, Patino Alvarez CP, Genoud C, Sothilingam V, Tanimoto N, Stadler M, Seeliger M, Stoffel M, Filipowicz M, Roska. "MicroRNAs 182 and 183 are necessary to maintain adult cone photoreceptor outer segments and visual function", Neuron 2014 Aug 6.
Busskamp V, Duebel J, Balya D, Fradot M, Viney TJ, Siegert S, Groner AC, Cabuy E, Forster V, Seeliger M, Biel M, Humphries P, Paques M, Mohand-Said S, Trono D, Deisseroth K, Sahel JA, Picaud S, Roska B. "Genetic Reactivation of Cone Photoreceptors Restores Visual Responses in Retinitis pigmentosa", Science. 23 July 2010.