AOVision Lab Bonn, Adaptive Optics Imaging and Visual Psychophysics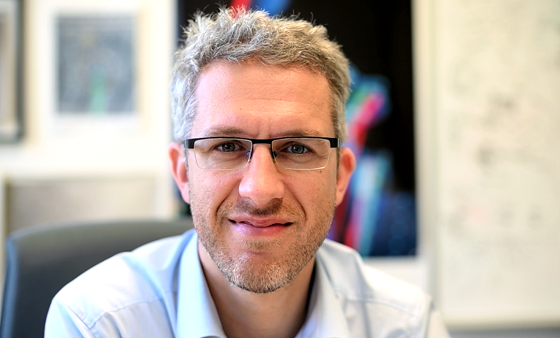 Dr. rer. nat. Wolf Harmening
We use adaptive optics imaging techniques to create high resolution images of the living human retina. By means of fast optical light switching and real-time compensation for retinal motion, we are able to target and stimulate individual photoreceptor cells for extremely precise visual function testing.
For further infomration: https://ao.ukbonn.de/
Dr.rer.nat. Wolf Harmening, born in 1978, is Emmy Noether junior research group leader in the eye clinic of the University Hospital Bonn (director: Prof. Dr. med. Frank G. Holz). He studied electrical engineering and biology at the Rheinisch-Westfälische Technische Hochschule Aachen, where he received his doctorate in neurobiology in 2008. He then worked as a research assistant at the Institute for Zoology and Animal Physiology at the RWTH Aachen University. After a two-year research stay at the School of Optometry at the University of California, Berkeley (laboratory Prof. Dr. Austin Roorda), he returned to Germany as Emmy Noether group leader. His scientific focus is on high-resolution retinal imaging and the characterization of visual perception in humans.
Julius Ameln, M.Sc.
Alexandr Gutnikov, M.Sc.
Julia Hofmann, M.Sc.
Veronika Lukyanova, M.Sc.
Jenny Loren Reiniger, M.Sc.
Reiniger JL, Domdei N, Holz FG, Harmening WM (2021) Human gaze is systematically offset from the center of cone topography. Current Biology, [online first]
[doi:10.1016/j.cub.2021.07.005]
Domdei N, Reiniger JL, Holz FG, Harmening WM (2021) The relationship between visual sensitivity and eccentricity, cone density an outer segment length in the human foveola. Investigative Ophthalmology & Visual Science, 62 (9):1-16
[doi:10.1167/iovs.62.9.31]
Tuten WS, Harmening WM (2021) Foveal vision. Current Biology, 31(11):R701-R703. [doi:10.1016/j.cub.2021.03.097]
Neitz A, Jiang X, Kuchenbecker JA, Domdei N, Harmening WM, Yan H, Yeonan-Kim, Patterson SS., Neitz M, Neitz J, Coates DR, Sabesan R (2020) Effect of cone spectral topography on chromatic detection sensitivity. Journal of the Optical Society of America A, 37(4):A244-A254.
DOI 10.1364/JOSAA.382384
Harmening WM, Sincich LC (2019) Adaptive Optics for Photoreceptor-Targeted Psychophysics. High Resolution Imaging in Microscopy and Ophthalmology. Springer, Cham. pp 359-375.
DOI 10.1007/978-3-030-16638-0_17
Domdei N, Linden M, Reiniger JL, Holz FG, Harmening WM (2019) Eye tracking-based estimation and compensation of chromatic offsets for multi-wavelength retinal microstimulation with foveal cone precision. Biomedical Optics Express, 10: 4126-4141.
DOI 10.1364/BOE.10.004126
Reiniger JL, Lobecke AC, Sabesan R. Bach M, Verbakel F, de Brabander J, Holz FG, Berendschot TTJM, Harmening WM (2019) Habitual higher order aberrations affect Landolt but not Vernier acuity. Journal of Vision, 19(5): 1-15. DOI 10.1167/19.5.11
Domdei N*, Domdei L*, Reiniger J, Linden M, Holz FG, Roorda A, Harmening WM (2018) Ultra-high contrast retinal display system for single photoreceptor psychophysics. Biomedical Optics Express. 9: 157-172 DOI 10.1364/BOE.9.000157
Tuten WS*, Harmening WM*, Sabesan R, Roorda A, Sincich LC (2017) Spatiochromatic interactions between individual cone photoreceptors in the human retina. The Journal of Neuroscience, 37(39) 9498-9509. DOI 10.1523/JNEUROSCI.0529-17.2017
Harmening WM (2017) [Contrast sensitivity and visual acuity in animals] Kontrastempfindlichkeit und Sehschärfe bei Tieren. Der Ophthalmologe. DOI 10.1007/s00347-017-0561-4
Reiniger JL*, Domdei N*, Pfau M, Müller PL, Holz FG, Harmening WM (2017) Potential of adaptive optics for the diagnostic evaluation of hereditary retinal diseases. Klinische Monatsblätter der Augenheilkunde, 234: 311-319. DOI 10.155/s-0043-100631
Ratnam K, Domdei N, Harmening WM*, Roorda A* (2017) Benefits of retinal image motion at the limits of spatial vision. Journal of Vision, 17(1): 30. DOI 10.1167/17.1.30
Harmening WM (2017) Adaptive optics for Ophthalmology. Der Ophthalmologe. 114(3): 196-197. DOI 10.1007/s00347-016-0413-7