Arbeitsgruppe Schlee
Prof. Dr. rer. nat. Martin Schlee

Tel.: +49 228 287-16080
Fax: +49 228 287-16094
Our group is focused on studying the antiviral immune response of the innate immune system. This response is primarily initiated and regulated by receptors of the innate immune system within the infected organism that recognize foreign nucleic acids. These receptors can recognize DNA and RNA from invading pathogens by sensing their mislocalization, structure, and chemical modifications (see Figure 1). One of the main challenges for the innate immune system is to recognize pathogenic nucleic acids in a highly sensitive manner, without reacting to the endogenous nucleic acids present in the organism. On one hand, if the immune response is too weak, this can lead to further spread of the infection. On the other hand, if the immune response to nucleic acids is overzealous, it can result in autoimmune diseases such as Lupus erythematosus (in particular, Aicardi-Goutières syndrome (AGS)).
Our lab works mostly on determining the structures and modifications of nucleic acids that are recognized by the nucleic-acid receptors or what might inhibit this recognition. Thus far, we have concentrated on the cytosolic receptors RIG-I and cGAS. We have determined the recognition motifs for RIG-I and cGAS (Schlee et al. Immunity 2009; Goubau et al. Nature 2014; Herzner et al. Nat. Immunol. 2015), and we discovered an immune tolerance mechanism for endogenous RNAs by which RIG-I checks whether the 5'-cap of RNAs has been methylated (Schuberth-Wagner et al. Immunity 2015). The RNA receptor RIG-I is essential to the antiviral immune response against most RNA viruses, including Influenza, Hanta, Measles, and Ebola viruses. Following stimulation, RIG-I induces a signaling cascade, dominated by IFN-a/b, which subsequently triggers the antiviral program of the cell. cGAS recognizes both viral and endogenous double-stranded DNA (dsDNA) and also induces an IFN-a/b-dominated signaling cascade. In particular, RIG-I recognizes unusual modifications at the 5'-end of double-stranded RNA, and cGAS is stimulated by long dsDNAs or by short dsDNAs with G-rich overhangs (Herzner et al. Nat. Immunol. 2015).
By identifying the minimal recognition motives for nucleic acids, we hope to use this information to develop medications for immunotherapy against viral infections and cancer. Based on one of the RIG-I ligands developed in our lab, the biotech company RIGONTEC (now owned by MSD) was founded in Bonn. Currently we are expanding our studies of the topics mentioned above to include the effects of RNA modifications on immune recognition, splicing, and translation.
Figure 1: Recognition of invading pathogens by nucleic-acid receptors
The innate immune system can recognize viral threats and certain bacteria through the detection of genetic material through mislocalization, unusual structures, or chemical modifications. Toll-like receptors (TLR) 3, 7, and 8 recognize RNA, TLR9 recognizes DNA in the endosome, RIG-I and MDA5 detect pathogenic RNA, and cGAS finds DNA in the cytosol. Stimulation of these receptors, known as nucleic-acid receptors, causes the induction of an immune response that is dominated by IFN-a/binduced expression of antiviral effector proteins. These proteins can also detect the unusual structures and modifications of RNA and inhibit its translation (PKR, IFIT1) or degrade the RNA (RNaseL).
Herzner AM, Hagmann CA, Goldeck M, Wolter S, Kübler K, Wittmann S, Gramberg T, Andreeva L, Hopfner KP, Mertens C, Zillinger T, Jin T, Xiao TS, Bartok E, Coch C, Ackermann D, Hornung V, Ludwig J, Barchet W, Hartmann G and Schlee M. Sequence-specific activation of cGAS by Y-form DNA structures as found in primary HIV-1 cDNA. Nat Immunol. 2015. 16(10):1025-33

Schuberth-Wagner C, Ludwig J, Bruder AK, Herzner AM, Zillinger T, Goldeck, M, Schmidt T, Schmid-Burgk L, Kerber R, Wolter S, Stümpel JP, Roth A, Bartok E, Drosten C, Coch C, Hornung V, Barchet W, Kümmerer BM, Hartmann G, Schlee M. A conserved histidine in the RNA sensor RIG-I controls immune tolerance to N1-2'O-methylated self RNA. Immunity. 2015. 43(1):41-51

Goubau D*, Schlee M*, Deddouche S, Pruijssers AJ, Zillinger T, Goldeck M, Schuberth C, Van der Veen AG, Fujimura T, Rehwinkel J, Iskarpatyoti JA, Barchet W, Ludwig J, Dermody TS, Hartmann G, Reis e Sousa C. Antiviral immunity via RIG-I-mediated recognition of RNA bearing 5'-diphosphates. Nature. 2014. 514(7522):372-5

Hagmann CA, Herzner AM, Abdullah Z, Zillinger T, Jakobs C, Schuberth C, Coch C, Higgins PG, Wisplinghoff H, Barchet W, Hornung V, Hartmann G, Schlee M. RIG-I detects triphosphorylated RNA of Listeria monocytogenes during infection in non-immune cells. PLoS One. 2013. 8(4): e62872

Abdullah Z*, Schlee M*, Roth S, Mraheil MA, Barchet W, Böttcher J, Hain T, Geiger S, Hayakawa Y, Fritz JH, Civril F, Hopfner K-P, Kurts C, Ruland J, Hartmann G, Chakraborty T and Knolle PA. RIG-I detects infection with live Listeria by sensing secreted bacterial nucleic acids. EMBO J. 2012. 31, 4153 – 4164.

Schlee M, Roth A, Hornung V, Hagmann CA, Wimmenauer V, Barchet W, Coch C, Janke M, Mihailovic A, Wardle G, Juranek S, Kato H, Kawai T, Poeck H, Fitzgerald KA, Takeuchi O, Akira S, Tuschl T, Latz E, Ludwig J, Hartmann G. Recognition of 5' Triphosphate by RIG-I Helicase Requires Short Blunt Double-Stranded RNA as Contained in Panhandle of Negative-Strand Virus. Immunity. 2009; 31(1):25-34

Schlee M, Hölzel M, Bernard M, Mailhammer R, Schuhmacher M, Reschke J, Eick D, Marinkovic D, Wirth T, Rosenwald A, Staudt LM, Eilers M, Baran-Marszak F, Fagard R, Feuillard J, Laux G, Bornkamm GW, c-MYC activation impairs the NF-kB and interferon response: implications for the pathogenesis of Burkitt's lymphoma, Int J Cancer. 2007; 120(7):1387-95
Schlee M, Hartmann G. Discriminating self from non-self in nucleic acid sensing. Nat Rev Immunol. 2016 Sep;16(9):566-80.

Schlee M. Master sensors of pathogenic RNA - RIG-I like receptors. Immunobiology. 2013; 218 (11): 1322-1335
Group members
Katrin Ciupka, Doctoral candidate

Tel.: +49 228 287-51154
Charlotte Hunkler, Lab technician

Tel.: +49 228 287-51219
Adham Mohamed, Doctoral candidate

Tel.: +49 228 287-59989
Heike Prange, Lab technician

Tel.: +49 228 287-51152
Christina Wallerath, Lab technician

Tel.: +49 228 287-51216
Dr. Julia Wegner, PostDoc

Tel.: +49 228 287-51154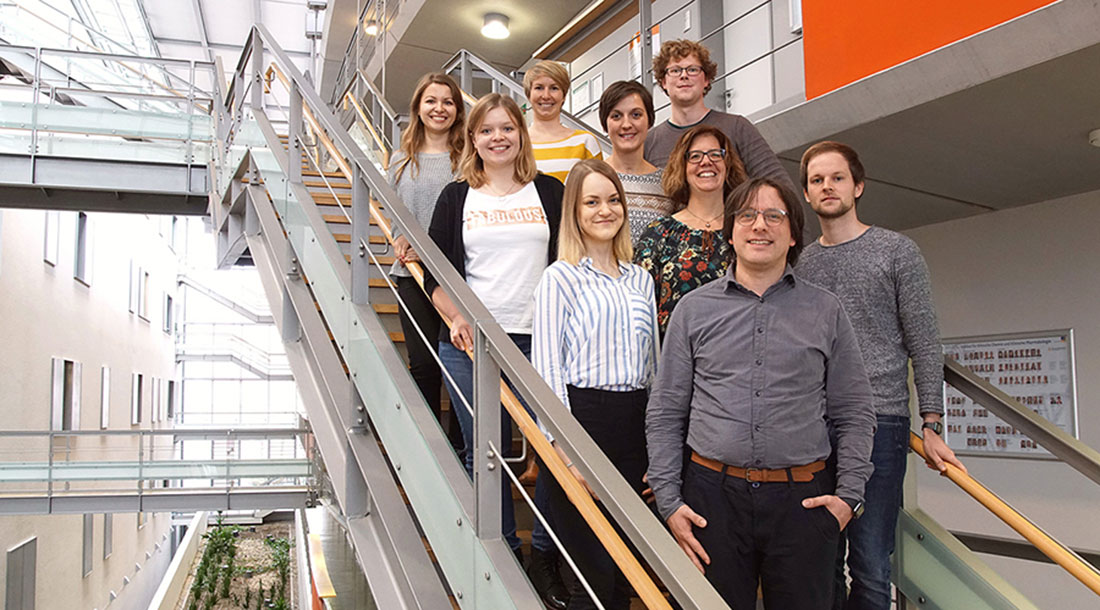 from the front (left) to the back (right): Prof. Dr. Martin Schlee, Julia Wegner, Alexander Kirchhoff, Katrin Ciupka, Heike Prange, Christina Wallerath, Agathe Grünewald, Ann Kristin de Regt, Steven Wolter (not shown: Marvin Holz, Adham Mohamed)