Lütjohann Group

Tel.: +49 228 287-14027
Fax: +49 228 287-16094
North Zone, Building No. 26
Floor UG (basement), Room 68
Request form for specialized lipid analytic tests can be found here.
For more than 30 years, our research has been focused on examining the metabolism of cholesterol and bile acids.
By applying the "Fecal Balance Method" and duodenal intubation technique, the influence of cholesterol-lowering medications on the resorption, synthesis, and biliary secretion rate of cholesterol and bile acids has been studied. These studies were carried out in the former "Laboratory 68" of the Department of Clinical Pharmacology (Director: Prof. Dr. K. von Bergmann), part of the Medical Faculty of the University Clinic Bonn (Directors: Prof. Dr. H.-J. Dengler and Prof. Dr. T. Sauerbruch). During the 1990's, the techniques for gas-chromatographic analysis were eventually replaced through the development of stabile isotope markers and mass-selective gas chromatography/mass spectroscopy (GC-MS) detection.
Since then, these highly applied methods have been refined through the identification of surrogate markers for cholesterol biosynthesis (steroidal precursors of cholesterol), sterol resorption (plant-derived sterols), and bile acid synthesis (oxysterol). These extremely rapid analysis methods have made it possible to examine sterol metabolism on a cellular level as well as in vivoand ex vivo.
Through national and international collaborations, we have developed diagnostic tools for the detection and monitoring of therapeutic interventions for hereditary disorders of cholesterol and bile-acid metabolism as well as diseases involving lipid pathophysiology. These tests are now offered in the "Laboratory for Specialized Lipid Analysis", as a part of the Central Laboratory of the Institute of Clinical Chemistry and Clinical Pharmacology (Director: Prof. Dr. G. Hartmann). This includes disfunctions in:
Cholesterol biosynthesis: Smith-Lemli-Opitz Syndrome (SLOS), Desmosterolysis
Sterol resorption: Sitosterolemia/Phytosterolemia (ABCG5/G8 mutations)
Intracellular cholesterol transport: Niemann-Pick Disease Type C (NPC1 defect)
Bile acid metabolism: Cerebrotendinuous xanthomatosis (CTX)
Hormone metabolism: Adrenogenital Syndrome (AGS)
We have existing methods for GC-MS analysis (GLP compliant) for the complete array of cholesterol and bile-acid precursors as well as plant-derived sterols and their oxidation products.
Atherosclerosis (Coronary artery disease, Stroke), neurodegenerative diseases (Alzheimer's disease, Parkinson's disease, Multiple sclerosis), hepatic diseases (non-alcoholic Steatohepatitis (NASH), cirrhosis of the liver), gastroenterologic disorders (Crohn's disease, resorption disorders), and prenatal diagnostics.
Group members
Silvia Friedrichs, Lab technician

Tel.: +49 228 287-15272
Anja Kerksiek, Lab technician

Tel.: +49 228 287-15272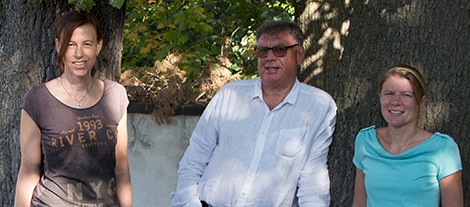 from left to right:
Anja Kerksiek, Prof. Dr. Dieter Lütjohann, Silvia Friedrichs
Publication in Alzheimer's & Dementia The Journal of the Alzheimer's Association
Link to the publication and supplement. PodCast incl. press release.
Publication in European Heart Journal