Schmid-Burgk Group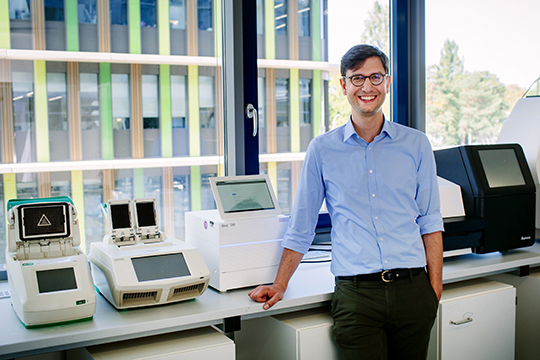 Prof. Dr. rer. nat. Jonathan Schmid-Burgk

Tel.: +49 228 287-51650
North Zone, Building no. 13
1st floor, Room 014
The innate immune response can be life-saving but also life-threatening. Which of the molecular switches in our cells lead to the correct decision? The discovery of CRISPR/Cas9, a bacterial defense system against viral infections, has opened up a myriad of possibilities in functional genetics: In many cases, the targeted deactivation of genes enables conclusions to be drawn about previously unknown functions of individual genes or entire signaling pathways in an immune response1.
CRISPaint, another method based on CRISPR/Cas9, enables transgenes to be introduced into the genome of human cells with high throughput2. By labeling protein-coding genes with GFP and a DNA barcode, followed by sequencing of the barcodes using a new in situ NGS method, it is possible to visualize thousands of proteins in parallel in living cells (live-cell proteomics) 3.
Furthermore, we are also interested in studying the processes for active self-diversification. This is a highly-effective method that our adaptive immune system uses to accommodate the changing threats presented by our environment. Does Nature also have ways of triggering self-diversification in a different context? In order to answer this question, we are developing algorithms to search metagenomic sequencing data for such undiscovered systems and to experimentally characterize them in the lab. This research could lead to future developments in biotechnology, such as antibody generation without the use of lab animals.
Recently, in the context of the SARS-CoV-2 pandemic, we have been developing LAMP-Seq, an NGS-based diagnosis method, which is designed to allow population-wide screenings that only rely on the existing sequencing infrastructure and commercially available reagents4.
Schmid-Burgk, J. L. et al. A Genome-wide CRISPR (Clustered Regularly Interspaced Short Palindromic Repeats) Screen Identifies NEK7 as an Essential Component of NLRP3 Inflammasome Activation. J Biol Chem 291, 103–109 (2016).
Schmid-Burgk, J. L., Höning, K., Ebert, T. S. & Hornung, V. CRISPaint allows modular base-specific gene tagging using a ligase-4-dependent mechanism. Nature Communications 7, 12338 (2016).
Feldman, D. et al. Optical Pooled Screens in Human Cells. Cell 179, 787-799.e17 (2019).
Schmid-Burgk, J. L. et al. LAMP-Seq: Population-Scale COVID-19 Diagnostics Using Combinatorial Barcoding. Biorxiv 2020.04.06.025635 (2020) doi:10.1101/2020.04.06.025635.
Group members
Katja Blumenstock, Doctoral candidate

Tel.: +49 228 287-51651
Dr. Thomas Ebert, PostDoc

Tel.: +49 228 287-51651
Caroline Fandrey, Doctoral candidate

Tel.: +49 228 287-51656
Alexander Hoch, Doctoral candidate

Tel.: +49 228 287-51651
Marius Jentzsch, Doctoral candidate/Lab manager

Tel.: +49 228 287-51652
Peter Konopka, Doctoral candidate

Tel.: +49 228 287-51656
Wibke Rüdiger, WHF

Tel.: +49 228 287-51651