Department of Nuclear Medicine
Dear patient
Dear Ladies and Gentlemen
We would like to welcome you to the homepage of Department of Nuclear Medicine at the University Hospital Bonn. On our pages you will find information about the examinations and therapies we offer. In addition, physicians and medical staff have the opportunity to obtain information on patient preparation and contact details for patient registration.
If you have any questions about specific examinations or treatment options in the context of nuclear medicine, please feel free to contact me or my senior physicians.
Yours sincerely
Prof. Dr. med. Markus Essler
Director, Chair Department of Nuclear Medicine at Bonn University Hospital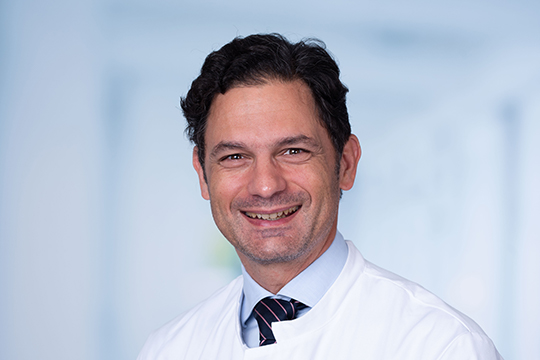 For even more conscientious care, we ask that you provide us with an up-to-date medication plan even before your inpatient admission.
Please bring the plan with you to one of the outpatient appointments (test procedure, preliminary consultation or preliminary examination in our nuclear medicine department).
You are also welcome to send us the plan by mail, e-mail or fax:
Clinic and Polyclinic for Nuclear Medicine
University Hospital Bonn
Venusberg Campus 1
A Building 21
53127 Bonn

Fax: +49 228 287-19107
---
Nuclear Medicine Emergency Number: +49 228 287-16855
Befundabfrage
Mo. - Fr.: 08:00 Uhr - 16:00 Uhr
Tel.: +49 (0)228 / 287 - 15181
Fax: +49 (0) 228 / 287-19096
klinik.nuklearmedizin(at)ukbonn.de

Terminvergabe
Bitte vereinbaren Sie telefonisch einen Termin.

Schilddrüsenambulanz:
Tel.: +49 (0) 228 / 287-16171
Fax: +49 (0) 228 / 287-19179

PET/CT:
Tel.: +49 (0) 228 / 287 - 16171
Fax: +49 (0) 228 / 287-19096

Konventionelle Szintigraphie:
Tel.: +49 (0) 228 / 287-16171

Therapie-Sekretariat:
Tel.: +49 (0) 228 / 287-16171
Fax: +49 (0) 228 / 287-19057

Therapiestation Winkler:
Tel.: +49 (0) 228 / 287-16171
Fax: +49 (0) 228 / 287-19107

Oberarztsekretariat:
Tel.: 0228 / 287 - 15181
Fax: +49 (0) 228 / 287-19096

Die Anmeldung erfolgt im Haus 21 (Nuklearmedizin)