Peptide receptor radiotherapy (PRRT) of neuroendocrine tumours (NET)
Neuroendocrine tumours are tumours (cancer) which arise from hormone-secreting cells in the body. Often these tumours also have the ability to produce hormones themselves, which may lead to clinical symptoms. Usually NET grow very slowly over the course of many years before they are detected or patients experience symptoms. When symptoms arise, the tumour often already has spread to the liver.

Well-differentiated NET usually have somatostatin receptors (SSTR) on the surface of the tumour cells, these are useful as molecular targets for diagnostics and therapy in nuclear medicine. This principle is already in use for more than 30 years and since then has evolved into established procedures for patients with NET.

The main pillars of NET therapy are surgery, medical therapy with somatostatin analogues ("biotherapy"), peptide receptor radiotherapy (PRRT) with e.g. Lutetium-177-DOTATATE, and molecular targeted therapies (e.g. everolimus), as well as chemotherapy and local ablative therapies. Due to this complex therapy algorithm, a multidisciplinary team of physicians should manage patients with NET. It is recommended that patients be treated in specialized centers with experience in the management of NET by an interdisciplinary team comprised of pathologists, radiologists, oncologists, gastroenterologists, surgeons and nuclear medicine specialists. Only in an interdisciplinary setting, the guidelines can be applied to the practical clinical situation by constant exchange of up to date knowledge, with the ultimate goal of developing a personalized therapy plan for each individual patient.
Lu-177-DOTATATE specifically docks to the somatostatin receptors on the tumour cells in a key-and-lock principle. Due to the specific binding to the somatostatin receptors, the radionuclide (Lutetium-177) accumulates in the tumour tissue and locally emits therapeutically active beta-radiation, which acts like an internal radiotherapy. Due to this principle, very high radiation doses which are able to kill the tumour cells can be delivered directly to the tumour in a highly conformal manner, meaning that the surrounding healthy tissue is mostly spared from the effects of the irradiation. Next to the therapeutically active beta-radiation (which has a range in human tissue of only about 1 mm), Lu-177 also emits a small amount of gamma-radiation, which can be detected by a gamma-camera and is used to generate scintigraphic images of the distribution of Lu-177-DOTATATE in the body to confirm accumulation in the tumour tissue.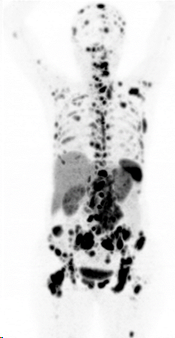 Before PRRT, sufficient expression of the somatostatin receptor should be confirmed by a diagnostic Ga-68-DOTATOC PET/CT examination (figure 1).
The therapeutically active agent Lu-177-DOTATATE is applied during a short stay (2-3 days) on our radionuclide therapy ward ("Station Winkler") in the University Hospital Bonn. After a physical examination, blood values (e.g. kidney and liver function, cell counts and tumour markers) will be checked and a kidney scan will be performed to exclude relevant functional impairment of the kidneys.Before and during the infusion of Lu-177-DOTATATE, an additional infusion of amino acids will be performed over the course of several hours, which is done to protect the kidneys from potential side effects of the therapy. The infusion of Lu-177-DOTATATE itself only takes about 30 minutes.

After infusion of Lu-177-DOTATATE, patients have to stay on our therapy ward for 2 days due to radiation protection regulations. After one day, a whole body scintigraphy is performed to visualize the radioactivity distribution in the body to confirm accumulation in the tumour tissue (figure 2).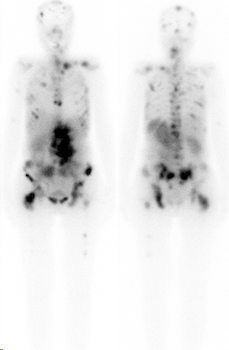 All beds are equipped with a personal flat screen TV and patients can bring their own books, laptops, tablets, mobile phones, etc. for personal entertainment. Wifi is available. Of course, on patient discharge all personal items (including clothing) can be taken home.
PRRT with Lu-177-DOTATE is usually performed in several cycles. Usually 4 cycles are applied in intervals of 2 to 3 months.
If there should be a disease progression after initial response to PRRT, the therapy can be repeatedly applied.
Normal organs with relevant exposure to the radiation of Lu-177-DOTATATE are the bone marrow and the kidneys. Usually this radiation exposure does not lead to any relevant functional impairment of bone marrow or kidney function. Substantial functional impairments of these organs are unlikely to occur. In rare cases however, bone marrow insufficiency or myelodysplastic syndrome (MDS) has been described as a late occurring side effect in about 1 of 200 patients (0.5%), mostly in patients who received multiple cycles of Lu-177-DOTATATE and who previously underwent myelotoxic chemotherapy.

Regarding acute side effects, nausea can occur in up to 30% of patients during the first 24 hours after Lu-177-DOTATATE therapy. This is mostly caused by the amino acid infusion for kidney protection, not due to the Lu-177-DOTATATE itself and can be controlled by antiemetic medication in most cases without problems. A temporary mild impairment of bone marrow function can occur in about 25% of patients. This can result in temporarily reduced counts of white blood cells and platelets, which normalizes after about 4-6 weeks and usually does not lead to any symptoms and does not require specific treatment.
If PRRT with Lu-177-DOTATATE is the best choice in your case has to be determined by your treating physician (e.g. oncologist or gastroenterologist) together with our interdisciplinary team of experts. We will then discuss your case in an interdisciplinary tumour board, which takes place on a regular basis in our hospital. We will then plan any further steps needed before Lu-177-DOTATATE therapy can be applied. You or your treating physician can get in contact with us directly via our therapy secretary's office by phone, fax and email (see contact data below). You can also send us an inquiry for therapy using the online form on our webpage. We will then get in contact with you in a timely manner.
Therapy secretary office / enquiries
Frau Oregan Vautey
Tel.: +49 228 287-16171
Fax: +49 228 287-19057

Therapy Ward
Tel.: +49 228 287-16855
Fax: +49 228 287-19107